Eine tolle Ausstellung in schicken Räumen mit perfekten Gastgebern – was wünscht sich der geneigte Vernissage-Besucher mehr. Und so war die Vernissage von Nicoló Minerbis Schau »The Visual Soundtrack of My American Years« am sonnigen Karfreitag in der Leica-Galerie Zingst ein voller und gleichzeitig gut besuchter Erfolg.
Zur Einführung sprachen gleich drei Fotokenner: Zuerst Rico Nowicki, seines Zeichens der Geschäftsführer der Erlebniswelt Fotografie Zingst, dann Klaus Tiedge, der Kurator aller Fotoschauen in Zingst. und als Dritte Edda Fahrenhorst, Mitinhaberin und Geschäftsführerin von fotogloria | büro für fotografische zusammenarbeit, durch die die Ausstellung ihren Weg nach Zingst fand. Hier ihre Rede: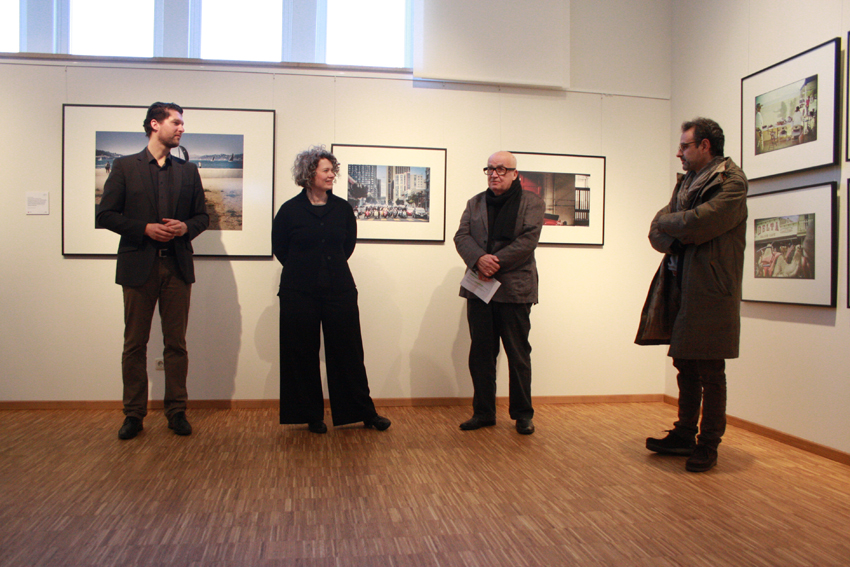 Guten Tag!
Vielen Dank für die einleitenden Worte. Und vielen Dank auch für die Einladung, über diese Ausstellung zu sprechen, ist sie mir doch eine große persönliche Freude!
Mein Dank gilt vor allem Rico Nowicki und Peter Krüger – ich freue mich, dass wir immer wieder hier nach Zingst kommen dürfen, um die Bilder von den fotogloria-Fotografen zu zeigen und vorzustellen.
Danken möchte ich auch Klaus Tiedge für die jahrelange SO gute Zusammenarbeit – ich bin immer wieder glücklich darüber, dass wir uns in puncto Fotografie beinahe blind verstehen.
Vielen Dank außerdem natürlich an das ganze Team, an Steffi Schiller, Simone Marke, Jens Redecker, Doreen Meyer und allen anderen für die immer wieder reibungslose Organisation.
Was ist es, das Nicolos Fotografie so außergewöhnlich macht? Dieser Frage versuche ich auf den Grund zu gehen, seitdem ich angefangen haben, seine Bilder anzuschauen – und ich kann Ihnen versichern, es sind SEHR viele Bilder, Nicoló ist ein sehr produktiver Fotograf.
Und das ist natürlich auch die Frage, die ich in diesem Rahmen so gerne beantworten möchte.
Natürlich könnte ich jetzt auf formale Aspekte eingehen und könnte begeistert sein über Nicolòs perfekten Umgang mit etwa der Bildaufteilung – und darüber bin ich wirklich begeistert, denn ich habe selten einen Fotografen gesehen, der aus vermeintlich uninteressanten, farblosen und langweiligen Szenen und Momenten so viele gute Bilder rausholt.
Ich könnte auch darüber sprechen, wie mühelos er diverse Techniken beherrscht – tatsächlich arbeitet er mit jeder Kamera, die ihm in die Finger kommt – von der Jahrhundertwende-Balgenkamera bis zum Smartphone. Obwohl die Leica schon sein liebstes Stück ist. Vor allem aber sind es seine Leica-Optiken, die aus den 40er und 50er Jahren stammen.
Ich könnte mich auch darüber freuen, wie wenig er sich an vermeintlich gut funktionierende formale Kriterien hält, denn er springt mühelos durch Stile, Methoden, Sujets und experimentiert dabei hemmungslos.
Aber eigentlich geht es bei einem Fotografen – fernab von formalen Kriterien – darum, welche Ideen er zur Welt hat. Und wie er denkt, wie er fühlt.
In der Vorbereitung auf den heutigen Tag habe ich also noch einmal alle emails durchgelesen, die seit Monaten zwischen Nicoló und mir hin- und hergehen. Und habe dabei beschlossen, dass es wahrscheinlich das Sinnvollste ist, Nicoló selber zu Wort kommen zu lassen – ich möchte Ihnen also ein paar Auszüge aus unsere Korrespondenz vorlesen. Ich war so frei, und habe sie übersetzt:
Frage: Gibt es eigentlich irgendetwas in der Fotografie, dass Du nicht magst oder nicht bewältigen kannst?
Antwort: Alles hängt von der Stimmung ab – gute Vibrations, gute Bilder. Die Kunst ist, die Magie zu erkennen, die einen Augenblick einzigartig macht.
Frage: Hast Du denn Ziele als Fotograf?
Antwort: Ich sehe mich nicht als Fotograf. Ich benutze meine Kamera als einen Stift, um meine Geschichten zu schreiben und meine Fotos sind die Wörter.
Frage: Und wie sieht es mit fotografischen Vorbildern aus?
Antwort: Wahrscheinlich habe Tausende von fotografischen Vorbildern, aber das ist so, als hätte ich keine. Meine wirklichen Vorbilder sind in den Museen zu finden, so liebe ich etwa Dürer für seine vielschichtigen Bilder. Oder Edward Hopper – in seinen Bildern kann ich die Stille hören.
Frage: Wann und warum hast Du mit der Fotografie angefangen?
Antwort: 2001 habe ich angefangen zu fotografieren und ich glaube, ich konnte gar nicht anders, denn: Ich kann die Welt um mich herum nur verstehen, wenn ich sie sehe. Ich sehe Bilder. In Farbe in schwarzweiss. Andere Menschen hören, riechen, schmecken. Ich sehe. Also war es ein natürlicher Prozess, zur Kamera zu greifen, obwohl ich einst als Schreiber angetreten bin.
Frage: Zur aktuellen Ausstellung: Du hast sieben Jahre in San Francisco gelebt, das fotografische Ergebnis dieser Jahre wird hier nun ausgestellt. Wie haben Dich die Jahre in den USA geprägt?
Antwort: Am Anfang war ich geschockt. Allerdings auf eine gute Art: Ich war glücklich, wie ein Kind im Süßigkeitenladen. Alles war verrückt, interessant und neu für mich. Es war, als hätte ich mich verliebt – Du verstehst nichts und nimmst alles, was kommt. Nach und nach habe ich dann angefangen, hinter die Fassaden zu schauen, habe angefangen, zu verstehen. Und das war dann der Moment, in dem in angefangen habe, die Menschen und ihre Reaktionen auf ihre Umwelt mit ihren Einflüssen etc. zu fotografieren. Und zwar immer mit diesem Gedanken im Hinterkopf: Um die USA zu verstehen, muss man sich eigentlich nur amerikanische Filme ansehen, denn US-Amerikaner leben die Schauspielerei, sie schauspielern das Leben.
Frage: Worum also genau geht es Dir in Deiner Fotografie?
Antwort: Die eigentliche Herausforderung ist es, die Seele von etwas oder von jemanden einzufangen.
In diesem Sinne: Viel Spaß bei Nicoló Minerbis »Visual Soundtrack of my American Years"!
P.S.: Nicolo Minerbi ist ein fotografisches Ausnahmetalent: Keine Szene, kein Thema, keine Situation, keine Idee, aus der er nicht – fast im vorbeigehen – ein Bild komponiert. Für seine Fotografie mixt er intelligente Gedanken, visuelle Visionen, spitzfindigen Humor, stilistischen Überschwang und schlicht Spaß zu ganz eigenen Bildwelten – und das alles entlang der perfekt beherrschten Klaviatur fotografischer Ausdrucksformen. Nicolò Minerbi lebt derzeit in Modica/ Sizilien und arbeitet weltweit.
P.P.S.: Schauen Sie sich die ganzen Geschichten hinter den in der Leica Galerie Zingst ausgestellten Serien von Nicolò Minerbi auf der fotogloria-Bilddatenbank an: »Scooter Coast« | »Lebowsky Fest« | »American Graffiti« | »Camel Race« | »How the Evolution Turned the Frontyard Into an Iconic Quotation«  – selbstverständlich können Sie alle Motive auch über fotogloria lizensieren.
P.P.P.S.: fotogloria vertritt Nicoló Minerbi weltweit. Über fotogloria können Sie ihn gerne für Ihre Ideen und Aufträge buchen – melden Sie sich jederzeit unter 040 609 42 906 -0 oder info@fotogloria.de.