Bystronic, Hersteller von Werkzeugmaschinen zur Bearbeitung von Blechen und anderen Flachmaterialien mit Sitz in der Schweiz schickt für das Unternehmensmagazin »Bystronic World« regelmäßig fotogloria-Fotografen durch die große weite Welt – für eine hochwertige Corporatefotografie. In diesem Falle war Chris Wedman in Kanada unterwegs und hat den Auswanderer Hans Heiniger und seinen Kompagnon portraitiert, die eine kleine Werkstatt in St. Paul betreiben – mit einer Bystronic-Wasserstrahlschneidmaschine. Eine kleine und feine Geschichte. Wir haben Chris zu dem Shooting befragt:
fotogloria: You came to do the Bystronic photo shoot via fotogloria – what was it about and what exactly needed to be photographed?
Chris Wedman: The story was about Hans Heiniger's life in Canada and the work that he does here with hit Bystronic machine. I had to find a way to photograph Hans in his workshop, while showing the type of work that they do there. As the story evolved, it was also very important to photograph the other side of Hans, and show his life in Canada outside of work.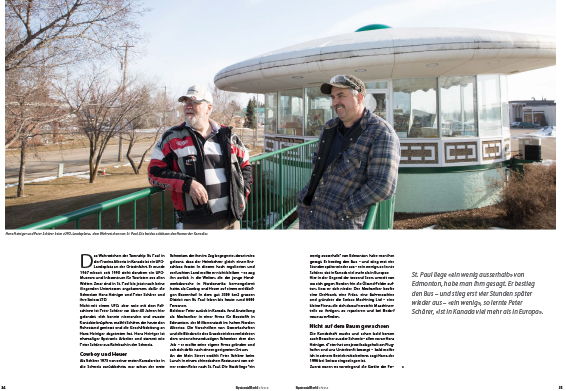 How did you prepare for the photo shoot and what equipment did you take with you?
I researched the type of photography that Bystronic features in their publication. I knew that it was important to get a nice strong environmental portrait of Hans in whatever scenario I had to work with. For me it is very important to shoot as much variety as possible when there is not an art director present. I want to make sure that I have provided more than enough options of imagery to work with the story.
As for equipment; I packed my vehicle with my Canon cameras, a variety of lenses, four flash heads, various lighting modifers and reflectors, and a grip kit consisting of tape, gels and clamps. Because we had to drive so far, I had to make sure I had everything I needed. We had to travel far away to a small town that had no camera stores. I like to be as prepared as possible for every shoot.
Did you have free rein in the choice of motifs and the compositions, or did the client brief you about what was required?
I did have free rein to an extent. I did research the type of imagery that Bystronic uses, so I knew what they were expecting in regards to composition, lighting. But I will still able to add my influence to the imagery and make it my own.
How did you go about the photo shoot? Did you achieve the best photographic results?
When Roman (the writer) and I arrived, we introduced ourselves to Hans and he took us on a tour of his workshop. He explained the work that they do there and briefly how it all worked. There was a key piece of machinery that was vital to the story as well as the company; I had to find a way to incorporate that into the imagery. Once I had a few ideas, I setup my lighting equipment and started working.
Which was the toughest and/or best moment during the photo shoot?
The best moment for me is always interacting with the subject. I'll do my best to have a conversation with them to get them relaxed as possible. At the start of our shoot, Hans wasn't sure what to think of it all. But after talking for a short while, he completely forgot he was being photographed and we managed to make some great portraits of him.
Which is your favourite picture from the photo shoot and why?
It's a really hard decision to make, I think we made quite a few great images from the shoot. I think the image of Hans sitting and holding the piece of metal with the Bystronic machine works great with the story. It is a sum of everything the story is about. If they really only needed one photo, that image tells the reader everything they need to know.
The story also touched up on Han's life in Canada, and the photo of him with his wife and horses shows that side as well. It's a great shot of a spontaneous moment of him and his wife caring for their animals. It's a unique look into his personal life which wouldn't be possible without all the hard work he's done.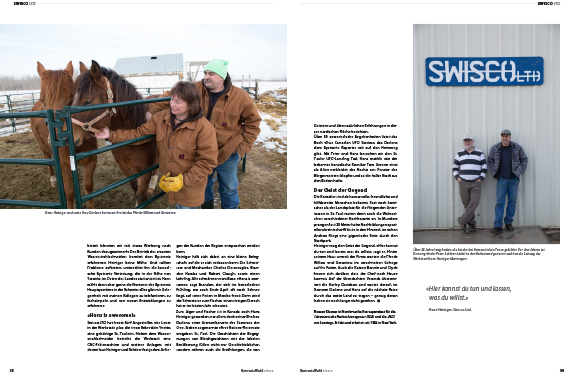 Last but not least, how did you find the collaboration with fotogloria?
The collaboration was great. They were able to answer any questions I had regarding the shoot. I love the way the article was designed and how it whowcased the images. I couldn't be happier with how everything turned out.
* Ihr Unternehmen, Ihre Agentur, Ihr Magazin hat internationale Themen und Sie suchen einen Fotografen vor Ort, der die Landessprache spricht, sich mit den kulturellen Gepflogenheiten auskennt und der Ihre Qualitäts-Standards erfüllt? Wir finden für Sie den passenden Fotografen für jeden Bereich der Unternehmenskommunikation und für jede Ihrer Ideen – und das in jedem Land, jeder Region und jeder Stadt. Eben fotogloria International: international@fotogloria.de