Das Auto ist nicht nur ein Transportmittel. Ein Auto ist vor allem ein Lebensgefühl. Und Nicoló Minerbi ist ein Meister darin, eben jenes zu fotografieren.
Im Zuge des neunten Umweltfotofestivals »Horizonte Zingst« gibt es nun die Möglichkeit, von Nicoló zu lernen, denn er gibt dort Ende Mai einen eintägigen und intensiven Workshop. Zu mehr Infos und der Anmeldung bitte HIER entlang.
Natürlich haben wir Nicoló gebeten, mehr darüber zu erzählen, was den geneigten Workshop-Besucher erwartet:
Cars have always been something more than the simple transportations they were meant to be. As worthy successors of the horses instead, they've been representing such an incredible variety of meanings and myths ever since. Freedom, dream, innovation, status symbol. Only to name a few of them. Such a complex and multidisciplinary product has always involved a huge variety of skills (from design to the safety engineering field). This is why, over the years, such a blend created a unique line of products able to get way beyond their original purpose.
WHAT AND WHY:
1. You'll spend the day getting lots of hands on practice at car photography, sharing the techniques of a professional car photographer on location.
2. The more you ask, the more you learn.
3. You don't have to be a car enthusiast to be a successful car photographer. Remember: not all wedding photographers are married 🙂
THIS WORKSHOP WILL TEACH YOU:
1. The right photo for every(car)body
What car do you need to take photos to? Is it your posh uncle's exotic Ferrari or your mom's kind of ugly MPV? Car bodies are sculptures, works of design you have to describe at their best. Environment, background, light, even the type of lens you use can make a huge difference (do you know Mr. Pagani asks photographers to use a specific lens only for his creations?). But first of all you have to figure out what the car you have in front inspires you. Does it talk you about luxury? Sport? Technology? Future? Retro style? Spot the strength of the model you choose, everything will follow.
2. All in sunlight
Although it is believed that the best time to shoot is a few minutes after sunset (or a few minutes before sunrise), this statement it's not a rule at all. Take it like a religion instead. Maybe you trust in a different one. Hard light (the light you have in summer at noon) sometime might help you better than a mellow twilight. Silhouettes are always welcome too (to exalt the design of the body). How about backlights, then? That will help you getting more juice out of the shots, by adding lens flares and by emphasizing dust and smoke (think about off roads and burnout shots, for example).
And yet it moves (Panning and driving shots)
Design, colors, leather interiors. Yep, everything look good. But, bottom line, cars move (and move you around)! That's why action photos always look good. Panning is just one option (freezing the subject and having the background motion blurred), but also having the car motion blurred can add something to the story you want to tell (remember, photos are always meant to tell stories).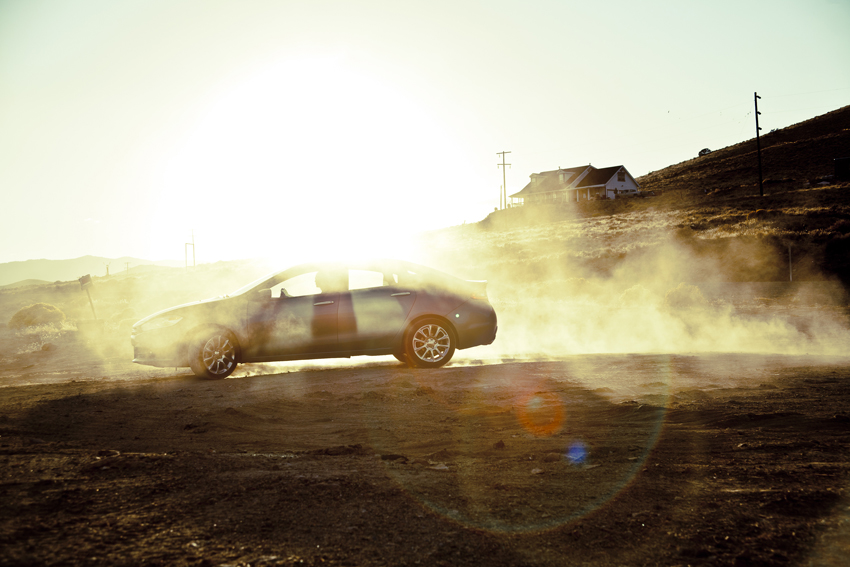 4. Mix and match (Color and background)
Let the car interact with the environment. You'll learn how to choose your background, to make the design of the body looking bold. You will also discover how to see the idea you have in mind becoming real: by playing with contrast or with the ton sur ton effect, for example. You'll come to understand the whole anatomy of a location car photo shoot.
5. Now what?
And now that you got familiar with the subject, what can you get out of it? Car photography, appeals not just to car enthusiasts, remember it. Cars can be used as a metaphor, a recurrent visual element in your story, a colorful detail that add zest to your shots. An heaven of fine art details. Plus, taking photos to cars doesn't make you a car photographer at all. Being aware of cars just brings a new subject into your imaginary world, it will be like having a new Lego brick to play with to build new funny stuff.
* Nicolo Minerbi ist ein fotografisches Ausnahmetalent: Keine Szene, kein Thema, keine Situation, keine Idee, aus der er nicht – fast im vorbeigehen – ein Bild komponiert. Für seine Fotografie mixt er intelligente Gedanken, visuelle Visionen, spitzfindigen Humor, stilistischen Überschwang und schlicht Spaß zu ganz eigenen Bildwelten – und das alles entlang der perfekt beherrschten Klaviatur fotografischer Ausdrucksformen. Nicolò Minerbi lebt derzeit in Modica/ Sizilien und arbeitet weltweit.
fotogloria vertritt AutoMotive-Fotografe Nicoló Minerbi weltweit! Über fotogloria können Sie ihn gerne für Ihre Ideen und Aufträge buchen – melden Sie sich jederzeit unter 040 609 42 906 -0 oder info@fotogloria.de.